When a home or business owner needs a durable and dependable HVAC system that will last a long time, they turn to American Standard. As a leader in the HVAC industry, American Standard provides the most efficient air conditioning and heating solutions available on the market. American Standard products use less energy, which translates into lower heating and cooling costs without sacrificing your comfort. Another way you can save some extra money is by taking advantage of American Standard's specials.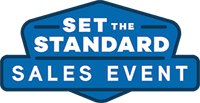 Built to a Higher Standard
American Standard is currently promoting the "Set the Standard Sales Event," which offers rebates up to $600. Special terms apply, so contact us for more information.
The American Standard Choice
There are several utility rebate programs available from your local American Standard utility resources. Contact your local American Standard dealer for more details.